Start Cooking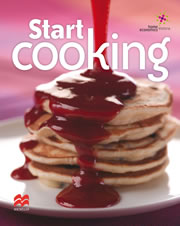 Start Cooking is a resource for students learning to cook, practising cooking skills, and developing basic expertise as the activities see them applying these skills to various exciting and contemporary recipes.

Written and developed by experienced teachers to celebrate 50 years of Home Economics Victoria, Start Cooking will assist students of all abilities to acquire good work practices and master cooking techniques, and will equip them with skills for life.
Purchase your copy of Start Cooking here.
Creating Home Economics Futures: The next 100 years
Home Economics can be a dynamic tool to create a sustainable future. In 2012 Home Economics Victoria hosted the World Congress of the International Federation for Home Economics (IFHE) in Melbourne, Australia. As the profession commences its second century of influence, this collection from 34 international Congress contributors reflects the global nature of the profession and provides a platform for outlining what the future of Home Economics might look like.
Purchase your copy of Creating Home Economics Futures: The next 100 years here.