With the uncertainty around schools, we are here to support you. We are available via email This email address is being protected from spambots. You need JavaScript enabled to view it. or you can call us on (03) 9642 1061.

Teacher curriculum support material
Our latest 130-page healthy eating pdf resource for teachers is a 10-week unit for years 7-8. Available now in our online shop.

Virtual Classroom: Online student learning
Like all of you we have put plans in place to support online delivery of the curriculum. We have developed a new healthy eating resource as an online 10-week interactive unit where students can access with week-by-week tasks, quizzes, practical activities to do at home and assessment through our Moodle platform (see Week 2 summary below). As the teacher you can e-meet with your students, monitor their progress online and mark the assessment as provided. License fee is $165 per class of up to 26 students. Maximum charge per school is three classes. Contact us to pay by credit card or provide a school purchase order number to receive an invoice.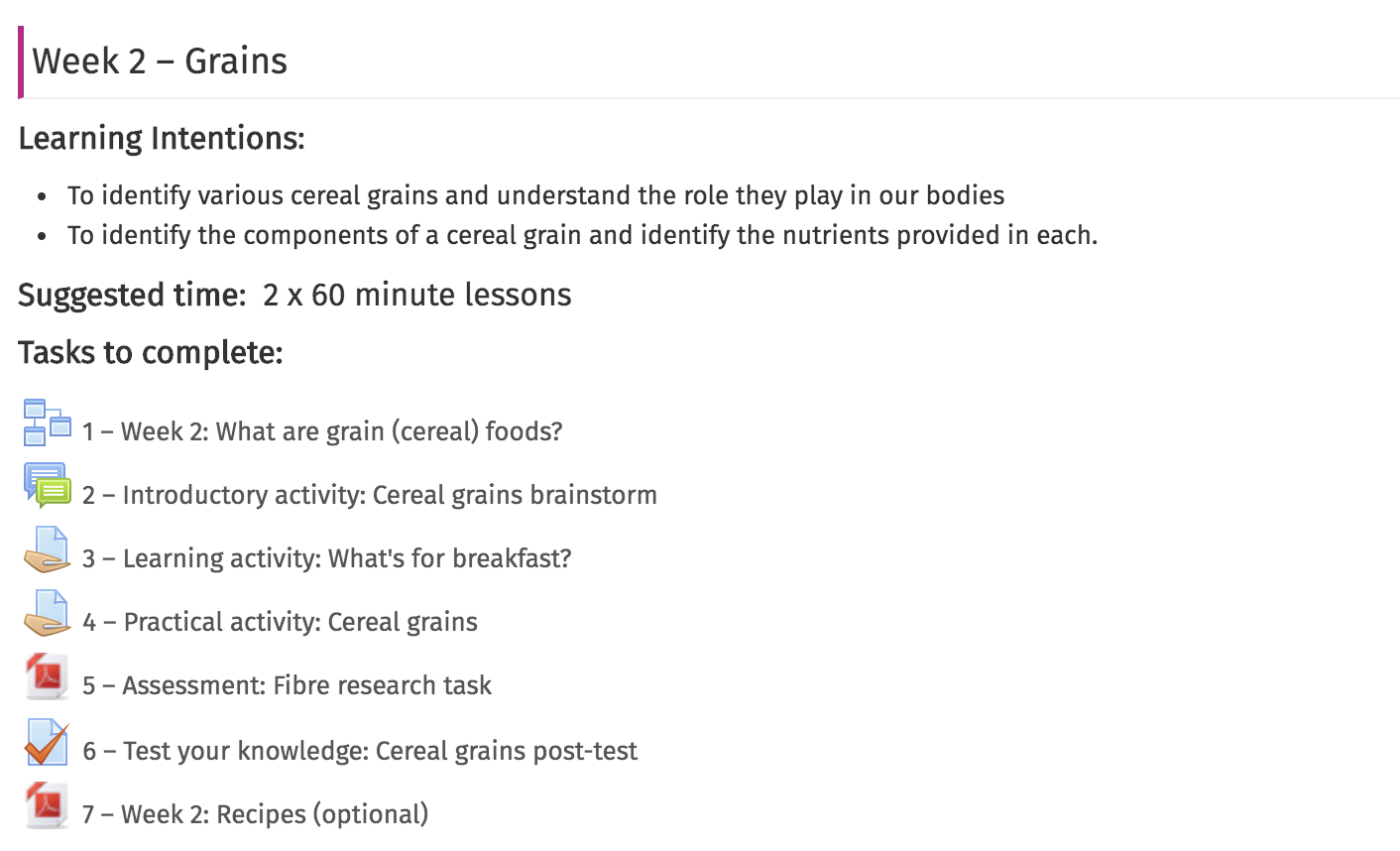 NEW member portal
We have created a new member portal where we will begin to add Victorian Curriculum activities created by us with a section for shared resources. Members will receive a separate email to access the member portal. We welcome all new and rejoining members.

VCE Curriculum portals
Currently we have online portals for VCE Food Studies and VCE Health and Human Development. These are available through our online shop.

Online accredited training
Already we have some online accredited professional learning available. If you or your students or colleagues need formal food safety training or food safety supervision you can complete this online and receive a nationally recognised statement of attainment from us in our capacity as a Registered Training Organisation. This may now be a perfect opportunity to update your food safety and hygiene skills.

Online professional learning
We are working hard to bring you an online program of professional learning from term 3 which will be uploaded to the professional learning calendar on our website soon.

Stay safe
From all of us to all of you, we hope you and those close to you are all safe and well. Don't hesitate to get in touch with us if there is any way we can support you in your teaching. We will continue to update you on member initiatives, curriculum support and professional learning over the coming weeks.